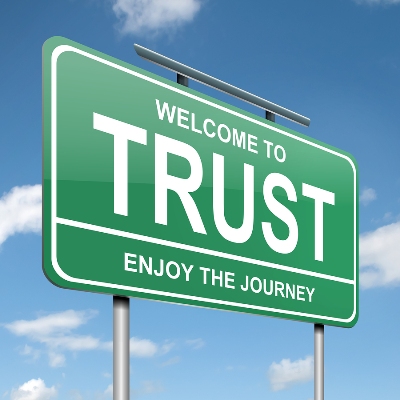 Do you trust your spouse?
Trust is a function of predictability.
You trust your spouse, when s/he responds and acts predictably.
That sounds very simple, doesn't it?
Well, it's not.
Trust is a huge factor in a marriage or relationship and that fact is brought to light when one spouse cheats. Trust is shattered and is extremely difficult to regain.
The underlying need system of each spouse can make trust a fragile commodity.
I've encountered very few in my 30 years of private practice as a Marriage and Family Therapist who initially were aware of their personal need system.
As with most, your personal need system rules. Your personal needs are extremely powerful if they dwell under your immediate awareness.
Personal needs vary from person to person: the need for attention, need for power, need for control, need for excitement, need for affirmation, need for love, etc. The list is long.
If you or your spouse unconsciously feels that your personal needs are not met, the internal turmoil may erupt and you or your spouse may experiment with other ways of acting which you believe might calm the turmoil (such as an affair.)
You or your spouse no longer is predictable (in the eyes of the other.) You think: "What in the world is happening?"…as you fear losing your world as you once knew it.
Trust and the predictability of the relationship are in jeopardy.
And, you revert to old ways of emotionally protecting yourself be they, withdrawal, conflict, overeating, over-drinking, excessive spending, working out, compulsive socializing, etc. etc.
Your marriage loses its warmth and the possibility for affection vanishes.
Affection is a by-product of trust.
Once you trust, once your martial or relational world feels safe and once you experience predictability, you and your spouse move closer.
Consider these characteristics of trust and affection:
I trust my spouse as much or more than anyone else in my life.
I know that I can count on my spouse's word.
I keep my word to my spouse; if I see an obstacle I express it as soon as possible.
I am careful about what I promise; I do not set my spouse up for disappointment.
I respect my spouse's friendships with attractive people; I do not worry or get jealous.
I look for opportunities to keep our love fresh and exciting.
I receive all the kind of affection and touch I want from my spouse.
Our marriage has moments of tenderness, kindness and gentleness.
laugh at my own humanness and can tease my spouse lovingly
I like the amount of lightness and play between us.
Now, here's what I want you to do.
Copy this list. Print it out and take it with you.
Spend two days reading it periodically. Paste it on your fridge. Make it desktop on your computer. Tape it to your mirror. Keep it in front of you, just for two days. Think about the list. Reflect on the list. Allow the list to sink deeply in to you.
Then, put it aside for a week.
Come back to the list a week later and see what shifts have taken place in your mind or in your relationship. Describe how the list has impacted you and your marriage. What did you do differently? What new attitudes do you now possess? What mental breakthroughs did you make, if any?
If you are separated, divorced and/or single, feel free to use this exercise targeting any relationship of significant emotional investment.