Welcome to the Easy Love Experience
The Easy Love is designed with researched, tested, practical and effective strategies and tactics to help you most quickly and powerfully change the course of infidelity in your relationship. Please start with the 48 Hour Infidelity Boot Camp.

Module #4

: Focus and Finish
Two barriers face you in attaining EASY LOVE: first, you stop too soon (I've experienced this over and over as a therapist.) When the tension is gone you you shift your focus rather than build a CORE of strength for the relationship. Second, you become distracted – by work, family, activities and the perpetual bombardment of advice that is fear based. This Module enables you to Focus and Finish building your core.
Overcome the Barriers
When a marriage crisis invades your life you find it extremely difficult to maintain your focus on the core issues in your marriage crisis. You struggle to "keep on track." Your spouse also may wander. A meaningful connection feels illusive and difficult to maintain. I describe 3 Powerful common barriers and ways to shift and maintain your focus, enabling you to build a relationship you trust will last forever.
How to Focus and Finish
To feel less isolated, rebuild your emotional power, move toward resolution of your crisis and speak more powerfully use Personal Coaching sessions with Dr. Huizenga. Discover the 4 keys to Personal Coaching Success. Accelerate your healing. Focus. Finish.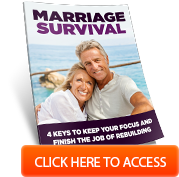 What you Need to Learn
What you Need to Learn
Supporting Content